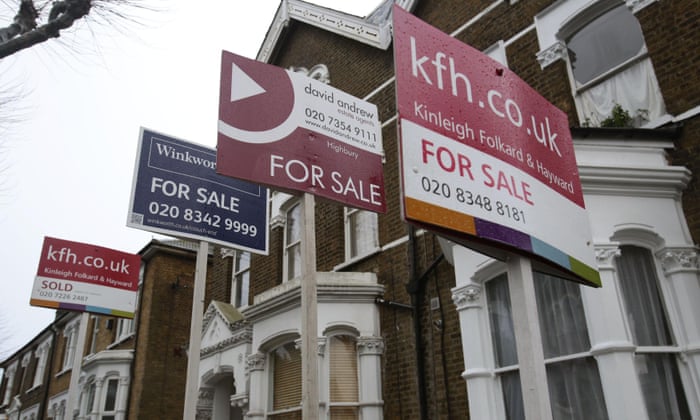 House prices fell again in April and are now nearly £3,000 below their peak in December 2016, amid broadening evidence of a slowdown in the UK property market.
The average property fell in value by 0.1% in April, according to data from Halifax. Although this is not as steep as the 0.4% monthly fall recorded by Nationwide, it puts both major indices on a similar downward trend.
Halifax said the average price fell to £219,649 in April from £219,788 in March. House prices reached an all-time peak of £222,190 in December 2016. The annual rate of price inflation remained at 3.8% in April, Halifax said, the lowest rate for four years.
Halifax housing economist Martin Ellis said: "Housing demand appears to have been curbed in recent months due to a deterioration in housing affordability driven by the sustained period of rapid house price growth during 2014-16. Signs of a decline in the pace of job creation, and the beginnings of a squeeze on households' finances as a result of increasing inflation, may also be constraining the demand for homes."
Continued low mortgage rates and housing supply issues should underpin house prices in the coming months, added Ellis. However some mortgage brokers are reporting that "down valuations" by surveyors are becoming increasingly common.
Jonathan Harris of mortgage broker Anderson Harris said: "The issue for buyers is affordability and bridging the huge gulf between incomes and house prices. We are seeing a number of down valuations from surveyors as caution starts to become more prevalent. Vendors are beginning to appreciate that their homes aren't worth as much as they thought."
Some experts welcomed the fall in house prices after years of above-earnings increases. Jeremy Duncombe of the Legal & General Mortgage Club said: "Today's reduction is not necessarily a bad sign for our housing market. What remains unchanged is the staggering gap between house price inflation and wage inflation. Tackling our nation's housing shortage needs to be at the top of the agenda for all political parties."
The falls in house prices are also reflected in falling rents in many parts of the country. Rents have fallen year on year in London for the first time since 2009 and are flat in much of the rest of the UK in fresh evidence of the post-Brexit vote slowdown in the property market.
The UK's biggest tenant referencing company, Homelet, said rents on new tenancies in London fell by 1.2% in April compared with the same month a year ago, the first annualised fall in eight years.
[Source:- theguardian]