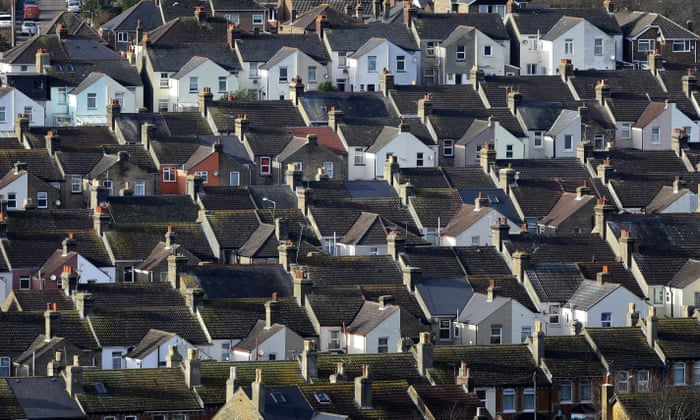 UK house prices fell at the turn of the year, the first monthly drop since last August, according to Britain's biggest mortgage lender.
Experts said the figures pointed to a market slowdown in 2017, although Halifax said a shortage of houses for sale should prevent a steep slump in prices.
The average price of a home fell by 0.9% to £220,260 between December and January. The previous monthly decline was 0.3% in August 2016, according to Halifax.
The annual rate of growth in the three months to January fell to 5.7% from 6.5% in the three months to December, and is well below the 10% peak last March. Last week, rival mortgage lender Nationwide reported that house prices grew by 4.3%in January, the weakest annual rate since November 2015.
Samuel Tombs, the chief UK economist at Pantheon Macroeconomics, said: "While large month-to-month falls in Halifax's measure of house prices are common, price growth has fundamentally weakened since the [EU] referendum."
Martin Ellis, Halifax's housing economist, said house prices were being underpinned by a shortage of properties on the market, low levels of housebuilding and ultra-low interest rates.
"These factors are unlikely to change materially during 2017. Nonetheless, weaker economic growth and increasing pressure on spending power, along with affordability constraints, are expected to dampen housing demand, resulting in some downward pressure on annual house price growth during the year," he said.
Along with other forecasters, Halifax is expecting the economic slowdown to put a brake on the housing market after several years of growth. It has pencilled in price growth of between 1% and 4% this year, and falling prices in London. Nationwide expects a gain of about 2% in 2017, while surveyors' body Rics has gone for 3%.
Financial analyst IHS Global Insight said the Halifax figures pointed to growth of 3% this year – half the increase reported by Halifax in 2016.
"January's correction in house prices reported by Halifax fuels our belief that house price gains over 2017 will be no more than 3%," said Howard Archer, the chief UK economist at IHS.
"Weakening consumer fundamentals, likely mounting caution over making major spending decisions and elevated house price-to-earnings ratios are likely to weigh down on house prices. However, a shortage of supply is likely to put a hard floor under prices."
Capital Economics expects house price growth to cool to 2% by the end of the year, saying "the squeeze on household incomes we expect will tend to curb demand".
Tombs has the same prediction. "The boost to price growth from the Bank of England's August interest rate cut is starting to wear off and there are signs growth will moderate further over the coming months," he said.
"With mortgage rates now at a floor and loan-to-income ratios nearing the financial policy committee's limits, house prices will have to track growth in households' incomes much more closely this year."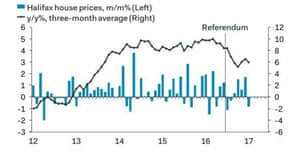 Halifax estimates that the number of first-time buyers rose by 7% last year to 335,750 – the highest level since the start of the financial crisis in 2007.
However, first-time buyer numbers still remain well below the pre-crisis peak of 402,800 in 2006. A total of 1.2m homes changed hands last year, up by 0.4% on 2015.
[Source:- theguardian]