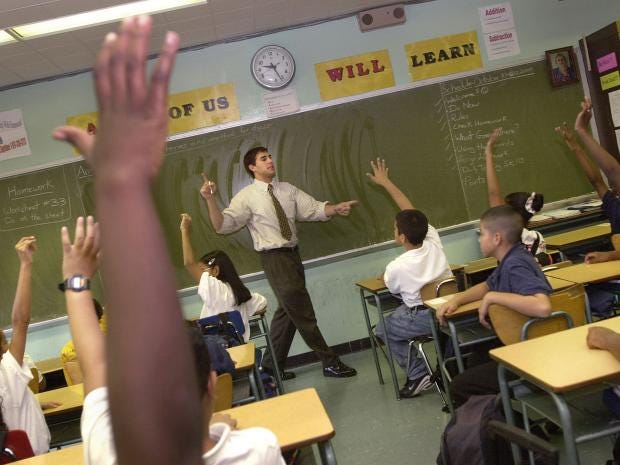 Teachers will descend on Westminster to march in protest against the Government's plans to force all state schools to become academies.
Members of the National Union of Teachers and the Association of Teachers and Lecturers said they would stage the demonstration outside the Department of Education on Wednesday.
Mary Bousted, general secretary for the Association of Teachers and Lecturers, said: "Against all logic, and evidence, the Government is promoting its ideology to fragment the education system.
"There is no evidence academies improve children's education. All the evidence shows the quality of multi-academy trusts (MATs) is highly variable.
"Even Sir Michael Wilshaw has said that the worst MATs are performing as badly as the worst local authorities…  This is a battle we must fight, and we can win. Let's get to it."
It follows Chancellor George Osborne's announced in last week's Budget that all state schools would be forced to become independently run academies by 2020.
This was followed by the release of an education White Paper from education secretary Nicky Morgan, entitled Academic Excellence Everywhere, which outlined in detail the plans for the 'academisation' of state schools.
Since the announcement, two petitions have exceeded the 100,000 signatures required to have them discussed in parliament – one calling for a referendum, and another calling for the move to be scrapped immediately.
Several teachers have openly spoken against the government plan, labelling it the result of "callous market-driven and profit-making motives".
Teachers are concerned about lack of evidence for the claim academies do better than schools run by local authorities.
There is also concern that the already tough working conditions teachers face will become worse if schools are made into academies, and that "the meagre supply of new teachers may well dry up further", worsening the shortage of teachers that Britain is already facing.
Kevin Courtney, deputy general secretary for the National Union of Teachers said: "The Government should be addressing the real issues facing schools: the teacher shortage, the lack of pupil places, the chaos in the curriculum. The [education] White Paper is a distraction from those central concerns.
"Incredibly, this is all being done despite the fact that there is no evidence that academies improve the educational results of children. We must all speak out to keep education in the hands of our communities and stop this reckless and destructive policy.
"There are serious democratic concerns surrounding the White Paper. Its proposal to convert all schools to academies wasn't in the Conservative manifesto, and it deliberately cuts parents out of decision-making about their schools."
The Hands Off Our Schools demonstration will begin outside Westminster Cathedral at 5.30pm on Wednesday 23 March, marching through Westminster to the Department of Education.
Shadow education secretary Lucy Powell MP and journalist Owen Jones are among those due to speak at the rally.
Similar protests are due to be held simultaneously around the UK.
​[Source:- Independent]