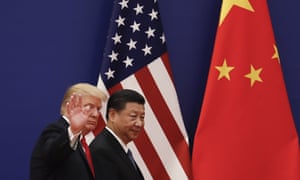 A thawing in the relationship between the US and China could give investors a reason to get back into Asian equities after a punishing year – the Hang Seng is still down by 11% in the year to date.
Tai Hui, chief market strategist for Asia Pacific at JP Morgan Asset Management, said:
I'm not entirely sure what to make of this. But it feels too big a change of direction following the [vice president] Mike Pence speech some weeks ago to be taken literally. It certainly isn't in synch with the latest charge of a Chinese company for conspiring to steal trade secrets.
Whether Trump has set the tone for the day will in large part depend on the outturn of US employment data, which is closely scrutinised by traders across the world for signs of inflationary pressure in the American economy.
The non-farm payrolls will be published at 12:30pm, with average hourly earnings and the unemployment rate the key data.
In the UK the Bank of England's top officials are busy doing the media rounds to explain why they held back from raising interest rates – and warned they could go both ways in the event of a "no deal" Brexit.
Bank deputy governor Ben Broadbent today told the BBC that faster wage growth will help real household incomes – a welcome sign for Britons after one of the worst decades for wage growth in the last century.
In Europe, meanwhile, investors will be eagerly awaiting the results of the European Banking Authority's latest stress tests of the banking sector, to be published at 5pm in London, where the watchdog is based (for now).
Some 48 banks have been put under the microscope, with the regulator looking at how risky the assets held by the lenders are – and how they would withstand a shock.
Italian banks' results will be particularly scrutinised amid political uncertainty over the prospects for the country's public finances.
["source=gsmarena"]