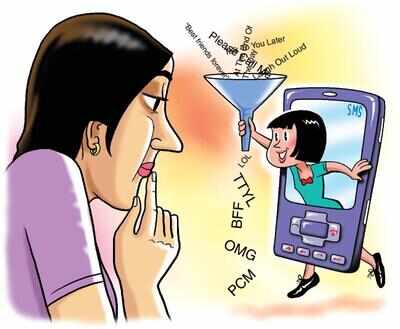 Nagpur: It has become very common these days for parents to offer mobile phones to their kids to distract them while feeding, dressing up or travelling. However, they do not realize this leads to problems in limit-setting and inability of children to develop emotional regulation. Similarly, fast-paced programmes and apps with lots of distracting content create difficulty in concentration later.
While problems regarding use of gadgets in children are known, proper solution to this issue or ideal limit for the use of gadgets were missing all these days. Recently, a Specialty Section on Cyberpsychology And Mental Health, established by the Indian Psychiatric Society (IPS), framed recommendations for healthy use of screens for infants, toddlers, children, adolescents and elders. IPS will soon release these guidelines on its website for public awareness.
Psychiatric Dr Sudhir Bhave, chairman of Section on Cyberpsychology And Mental Health, played a pivotal role in framing these guidelines. Dr Bhave told TOI that his team has been studying cyber related guidelines of different countries and research papers on this subject in India from last two years. They have prepared the locally relevant recommendations based on Indian conditions.
"Use of smart phones is increasing rapidly in India. Users of these gadgets need to be aware of precautions to save oneself from its ill effects. At IPS, we have framed recommendations for personal digital time management for users of all age groups. Separate recommendations for infants and toddlers, and children and adolescents were also framed," Dr Bhave said.
PSI will soon release these points officially on its website. The motive is to create awareness among Indian parents about the use of gadgets by their children. "Parents have to become good role models to educate their kids. You should observe how often you check the mobile phone in front of your baby or toddler," Dr Bhave said, adding that parents should enhance interactions with children. He shared several case studies in which children developed behavioural disorders due to excessive use of cell phones.
["source=timesofindia.indiatimes."]