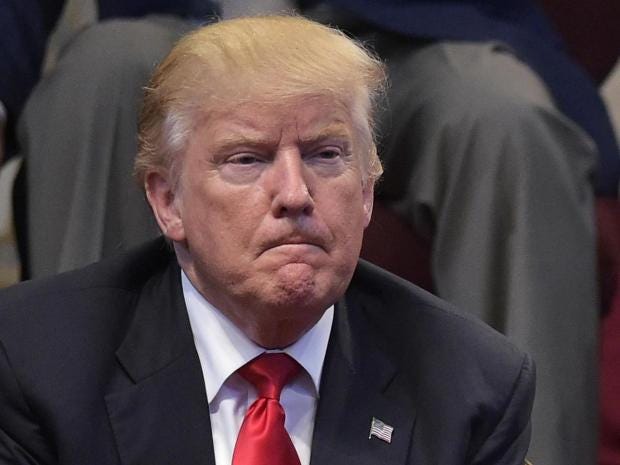 More than £22 billion was wiped off the FTSE 100 on Monday morning as the index was dragged down by supermarket stocks and renewed fears of a Trump presidency ahead of the first US presidential debate.
The UK's premier market fell more than 83 points or 1.2 per cent to around 6826, with only a handful of stocks in positive territory.
Sterling also took a hit, falling 0.3 per cent to 1.293 against the US dollar, and 0.4 per cent to 1.150 against the euro.
Investors shied away from global equities ahead of the first scheduled US presidential debate between Democratic candidate Hillary Clinton and Republican candidate Donald Trump before the election on 8 November.
Connor Campbell, a financial analyst at SpreadEx, said: "The first televised debate marks the point where Trump vs Clinton will be even more unavoidable than it already is, and therefore has reminded the market that the Brexit, US interest rates and China's economic slowdown aren't the only macro-issues out there to worry about.
"In other words, the markets have been reminded this morning that a Donald Trump presidency is still more than possible, sparking a sharp decline roughly on par with the gradual gains managed last week."
The debate is scheduled for 9pm US Eastern Time (0200 BST).
Across Europe, the French Cac 40 fell more than 1.7 per cent while the German Dax dropped 1.5 per cent, as Deutsche Bank shares dropped 6% hitting fresh record lows.
It follows a report by German magazine Focus, suggesting the government has ruled out state aid for the bank.
It is believed that Deutsche's capital buffers could be hit by a 14 billion US dollar fineproposed by the US Department of Justice (DoJ) linked to the sale of mortgage-backed securities in the run-up to the financial crisis.
In oil markets, Brent crude took another leg lower, falling 0.3 per cent to 45.81 US dollars per barrel ahead of an oil producers meeting between Opec and non-Opec in Algiers.
Investor hopes of a producer deal that would restrict supply and support crude prices has been waning.
In UK stocks, supermarket shares slumped after the British arm ofAldi said it will invest £300 million in store revamps following another year of record sales.
Sales grew by 12% to £7.7 billion in 2015, with Aldi doubling its turnover in just three years.
 Neil Wilson, a markets analyst at ETX Capital, said: "What's good news for Aldi is bad for the Big Four supermarkets – Sainsbury, Tesco, Morrison and Asda.
"And what will worry the boards of those firms the most is the loss of market share – Aldi is enticing more and more customers away from the likes of Tesco and Sainsbury."
Sainsbury's shares were down 4.2p to 249.7p, Morrisons shares fell 1.9p to 216.5p, Tesco down 1.7p to 179.8p.
[Source:- independent]