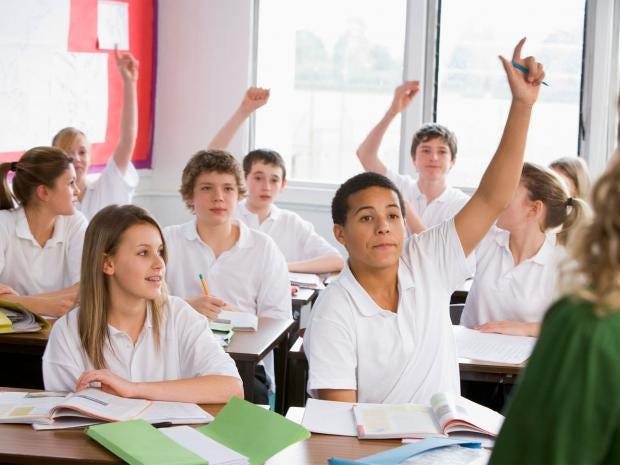 The proportion of children being denied a place at their first choice of secondary school has risen to the highest level since the start of the decade.
As many as one in six pupils (16.6 per cent) did not receive their first preference this year – equivalent to almost 93,000 children, and a rise of 0.6 per cent on last year.
The last time the proportion was above 16 per cent was in 2010.
Figures from the Department for Education also show one in 10 primary school age children were not offered their first choice this year – an improvement from roughly one in nine (11.6 per cent) in 2016.
This makes for a total of 154,854 pupils who were placed in their second or third choice of school at best.
Applications to primary schools are falling, thanks to a drop in the birth rate since 2013, meaning a greater percentage of children are being offered a place at their first choice school in recent years.
By contrast, applications to secondary schools have been rising steadily in recent years, prompted by a spike in births in the previous decade.
The figures come amid on-going discussions as to how the Government plans to provide more school places for the growing population.
Pupil numbers are expected to spike again before long, boosting the number of secondary school-age children by more than half a million by 2025.
By that time there will be around 3.3 million secondary-age children seeking school places – a factor the Government said has played a significant part in its free school expansion plans.
This is likely to have a knock-on effect on deepening teacher shortages, a cross-party board of MPs warned earlier this year.
Responding to the figures, Kevin Courtney, General Secretary for the National Union of Teachers, said the increase in demand for secondary places was inevitable, but that shortages could have been avoided with better planning.
"Many parents will have been anxious when their child didn't get the school place they wanted," he said. "The squeeze on secondary places is the biggest in decades but the causes are clear.
"It is very largely the predictable result of a woeful lack of planning and commitment by central government.
"The Government has reduced the powers for local authorities to plan for and provide sufficient school places in their areas.
"This can't be defended. It is essential that local areas have these powers restored and that they are given the funding required to meet the demands of the local community. A new government must take a new approach."
A total of 562,487 applications were made to secondary schools across England this year – the highest number since 2008.
Some 96.1 per cent of young people received an offer from any one of their preferred secondary schools, down slightly on 96.5 per cent in 2016.
There were significant variations across different regions, however, suggesting a child's likelihood of receiving a suitable school place still depends greatly on where they live.
North-east England saw the highest proportion of first-choice offers for secondary schools – at 90.9 per cent – just ahead of south-west England (90.8 per cent).
London families were the least likely to win a place at their child's first choice of school – 68.2 per cent – although the figure was slightly higher in outer boroughs (69.8 per cent) than inner city authorities (64.9 cent).
The local authority with the best first-preference rate this year was Northumberland (98.2 per cent), followed by Cornwall (97.3 per cent) and Bedford (96.8 per cent).
Northumberland and Cornwall have been in the top three for the past three years, meaning parents are least likely to struggle to find their children a suitable place in these areas.
Responding to the figures, the DfE said the school system was "rising to the challenge".
A spokesperson said: "The vast majority of parents continue to secure a place at their first choice of school for their child, 86.9 per cent – with more than 95 per cent having received offers at one of their top three choices.
"There are already 1.8 million more children in good or outstanding schools than 2010 but we want to do more to ensure every child has access to a good school place."
[Source:- independent]